Wayland Union

High School




Class Of 1969
ANNOUNCEMENTS
•

Save the date: Saturday, July 11, 2020

'69ers 69th Birthday Party!

Our "50th Reunion Party" last summer was a huge success. So, we've decided to party AGAIN next summer, and celebrate together our amazing 69th birthdays! Please mark your calendars, and plan to be back in Wayland on Saturday, July 11, 2020.

This date is firm, and one of our classmates has already generously offered to host this party at their home. But since planning '69er parties is all part of the fun, we're going to announce more details here on our class web site in the weeks ahead. In the meantime, please circle this date on your calendars and make reservations if needed. Then check back in, keep in touch, and get ready for another

PARTY LIKE IT'S 1969!
Please fill out our '69ers Survey!
"Sign In" using the green button on the upper right-->;
<-- Click "CLASS OF '69 SURVEY" at the top left column;
Complete the survey: Click the circles by your answers, and type in your comments. Thank you!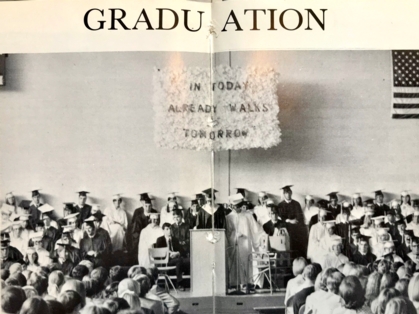 Welcome to the Wayland Union High School Class Of 1969 web site. If you are visiting the site for the first time, please click on "Classmate Profiles" in the left column, then click your name and register. Then, you can click "Edit Profile" to enter and update your profile information. You can also click "Edit/Upload Photos" to place photographs in your personal profile page. Don't forget to click the "Save Changes" button each time you enter information and photos.
ALL WEBSITE FEATURES ARE FREE!!!
Note: If you are having any problems accessing or viewing this web site, or have any questions, please click "Contact Us" from the menu on the left. Fill out the form and send a message decribing your problem.