In Memory
Paul Slater
Occupation: Entrepreneur-Construction-Developer
Children: Justin 1970; Melanie 1974; Daughter-in-law Tracy; Grandchildren Braden & Emerey
Birthday: September 26, 1950.
Comments: Paul died at age 52 on April 12, 2003.
Paul served in the United States Army from 1970-1971. He spent a year in Viet Nam.
He was a loving husband, father, and grandfather. He was generous to his family and many friends with his time and talents. He liked to buy his wife Karen sparkly baubles and take her on extended vacations. He excelled at practical jokes-to the delight of many observers if not those at the receiving end!
Paul was a risk taker. He wasn't afraid to try new ventures and was wildly successful in all his businesses. Thanks to Paul 175 families built new homes in the Dorr area in housing developments he owned and dozens more moved into the community in developments he designed and constructed for others.
Paul's life was dramatically altered the day he saw a little girl struck by a car as she rode her bicycle in the street for the first time; he held her as she took her last breath. He worked tirelessly constructing sidewalks along the busiest streets in the Dorr area-often donating his time, equipment and supplies. A section of the Pathways for Children was constructed with the memorials contributed after his death. A plaque was embedded in his honor and this section of the sidewalk is named "Paul's Path." The father of the little girl consoled Paul's family after Paul's death saying every time we see someone walking on the sidewalks we can say to ourselves, "Paul did that." There is never a time-day or night-that his sidewalks are deserted.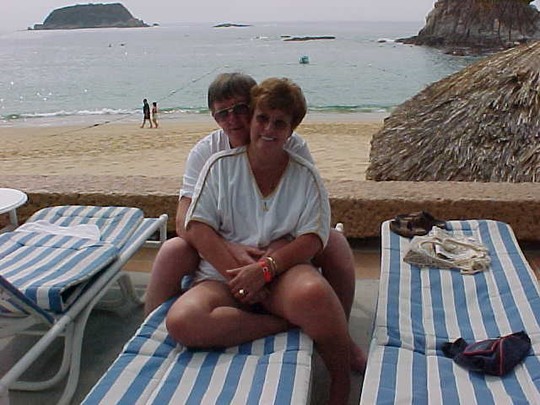 Paul and Karen in Hualtuco Mexico-February 2001
This is my favorite picture of Paul-he lacked
pretensions and was happiest when working
This captures the essence of Paul-always looking to the horizon